Welcome to Singtall Guitars
Why did I start building Guitars?
I have always modified and repaired guitars and considered building my own guitars, but the cost of building just a couple guitars for myself didn't justify the cost of the tools needed.  Christmas 2018 my wife decided it was time for me to start building guitars and she bought me a bunch of the tools that I needed to get started in my quest to build a better guitar. 
So what's wrong with what's already out there?
For me, I wanted more tonal options, better action and fretwork, simplicity and elegance. I wanted a guitar that could go from shred to country twang with the flip of a switch. None of the big companies were offering what I wanted as a stock guitar option, and custom shop guitars can cost a small fortune and the wait time to build can be a year or more. It was finally time to try my hand at building my own guitar.
So what's the plan now?
I built my first prototype body and tested it. Everyone who has looked at it, played it or heard it was impressed.  I used some parts I had laying around just for testing purposes, but the actual guitar line will feature only the best pickups and hardware. I'm currently buying more tools to make my own necks. The first build had a Jackson style neck which I setup for super low action and play-ability, but I want something more specific in terms of thickness and feel. I will be posting updates as the build progresses. 
I painted my first build in honor of my late cousin John Farris. when I was 18 I bought a bunch of parts to build a guitar from Music Emporium. John had the idea of me letting him paint my guitar and he would let me paint his bass.  I trusted him so I let him paint my guitar. He started out by taking red and blue spray paint cans and making graffiti all over the guitar which gave me great shock and horror. Lol. Once it dried he did the Van Halen stripes all over it with electrical tape then painted the whole guitar black. When he pulled the tape off it was the coolest looking guitar I had ever seen. Maybe not so cool by today's standards but when I was 18 it was awesome.  John was my best friend, bass player and cousin. I would like to think that John is watching over me right now as I play this guitar and he is smiling. I miss you brother.
Singtall Guitar 2 Spalted top
On my second build I used use a spalted maple top veneer. This was my first attempt at making a neck from scratch. The guitar turned out much better than I expected. With prompting from my wife and I ended up bring it with me to the NAMM show summer 2019.  I was really kind of embarrassed to show it to anyone because the finish clearcoat wasn't up to my standards. On the final day I brought it in with the permission of the guy who I learned from and who invited me to his booth. I only intended to show it to him but a guy stopped me on the way and asked to see it. One of the other guys at the booth asked me to show it to his friend and my wife recorded a quick video of him playing it. These guys really encouraged me to continue building and to actually market my guitars.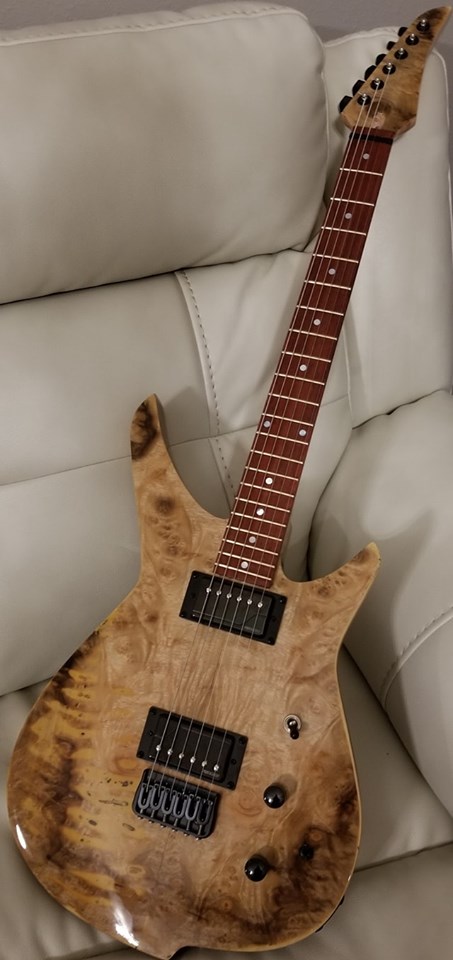 Guitar specs:
Poplar body with spalted maple top
Flame maple neck with 10 degree tilt back headstock
Paduak fretboard
Sperzel tuners
Graphtec nut
21 Jescar gold medium jumbo frets
Hipshot tailpiece
3-way toggle switch, 1 volume control. 1 tone control, 3-way mini toggle for pickup options.
Fishman Fluence Devin Townsend signature pickups with all 3 pickup options available
I drew up this body style and Davy Kline Jr decided that he had to have it even though it was a prototype. Davy has been instrumental with getting me setup with various manufacturers of parts that I will be using on all of my future builds.
Singtall Dragon body made of northern poplar with Purple Reign finish

slim Jackson style 22 fret maple neck with rosewood fretboard

Dunlop counter-sunk strap locks

one three way toggle control

one volume control with pull coil tap

Dimarzio Tonezone and Mo'Joe pickups

Gotoh 1996 tremolo with big brass block